Following last year's welcome release of season one of The Phil Silvers Show onto DVD, CBS recently announced that they will not be releasing the remaining three seasons.
So, fellow Phil Silvers/Sgt. Bilko fans everywhere....we are asking you to join us in our campaign to ask CBS to reconsider their stance and issue seasons two, three and four of this superb, ground-breaking comedy show.
All we ask is that you click on the link provided on this page and simply sign the petition. The more signatures we have the better we can argue the case with CBS - it really is that simple.
It's about time CBS realised that they are depriving millions of people the chance to savour and enjoy the delights of one of television's greatest-ever shows.
From the sheer writing tour-de-force-genius of Nat Hiken, the wonderful ensemble supporting cast and the electric central performance of the one and only Phil Silvers.....the show is a master-class in television comedy.
So join and help support our campaign to bring the remainder of The Phil Silvers Show to DVD.
To sign the petition simply click on the colour pic of Phil below and fill in the form.....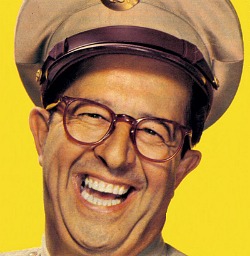 On behalf of Phil's family The British PHIL SILVERS Appreciation Society thank you for your support......
__________________________________________________
Thankfully we all know that the DVD Campaign was indeed eventually successful and in September of 2014 , following a premiere and showcase at the BFI all four seasons of The Phil Silvers Show were finally released as a complete boxset in the UK with a subsequent release in the US in November 2014!